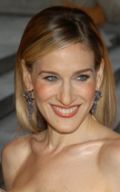 Sarah Jessica Parker is an actress who provided the voice of Christine Garza in the Gabriel Garza reboot films. She is famous for portraying Carrie Bradshaw in the HBO series Sex and the City, including the 2008 film and its 2010 sequel.
Ad blocker interference detected!
Wikia is a free-to-use site that makes money from advertising. We have a modified experience for viewers using ad blockers

Wikia is not accessible if you've made further modifications. Remove the custom ad blocker rule(s) and the page will load as expected.