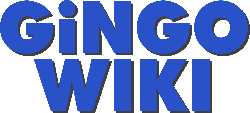 Welcome to the Gingo Wiki
Please keep in mind that almost everything you will see here is fanmade, so don't get tricked into thinking it's real. Also, no hackers, vandals and whatnot allowed!
Polls
What forthcoming Gingo movie are you most excited about?
What do you think of Gingo and its works?
Do you want Gingo and its works to exist in reality?
Featured Article of March 2018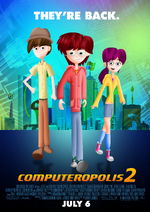 Computeropolis 2 is a 2007 American computer-animated science fiction action-comedy film produced by Gingo Animation for Universal Pictures. The sixth feature film from Gingo Animation, it was directed by Audel LaRoque from a screenplay by Michael Wildshill, LaRoque, and Mike Reiss, and a story by LaRoque, Wildshill, Karey Kirkpatrick, and Reiss. It is the sequel to 2004's Computeropolis, and takes place two years after the first film, with Peri Dazz now being 16 years old. It focuses on Peri and the gang entering a multiplayer virtual reality online world, during which Peri finds love. Soon, Computeropolis plunges into chaos when a mysterious gang of hackers try to hijack Peri's computer and take over the cyber city.
Read more...
Featured Article Poll
What should be the featured article of April 2018?
Blogs
Hey, guys. I've got an important announcement. A basic thought just popped up my head during school today that I may have to abandon the Computeropoli…

Read more >
Click here to see more blog posts.
Helping Out
Help us by contributing! To create a new page, enter the title in the box below.

If you are new to wikis, check out Help:Contents