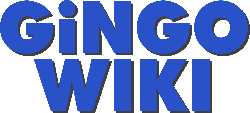 Welcome to the Gingo Wiki
Please keep in mind that almost everything you will see here is fanmade, so don't get tricked into thinking it's real. Also, no hackers, vandals and whatnot allowed!
Polls
What forthcoming Gingo movie are you most excited about?
What do you think of Gingo and its works?
Do you want Gingo and its works to exist in reality?
Featured Article of May 2018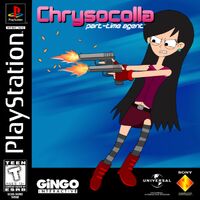 Chrysocolla: Part-Time Agent (or simply Chrysocolla) is a 1997 third-person shooter platform video game developed by Gingo Interactive, published by Sony Computer Entertainment, and distributed by Universal Interactive Studios for the PlayStation. It was originally released on October 21, 1997 in North America, in November 1997 in Europe, and on March 13, 1998 in Japan, and is the first installment in the Chrysocolla series. Taking place in the year 2030, the game follows a young rookie agent named Chrysocolla Reed, who is sent by the Secret Force Agency (SFA) on a mission against Jet Servo, the leader of the Shadow Army who plans to terrorize Nitropolis by using a powerful weapon that transforms people into mutated creatures.
Read more...
Featured Article Poll
What should be the featured article of June 2018?
Blogs
Note: This is basically just the same thing as this message post.

I wanted to have UAS co-produce Gingo's productions (despite the fact Gingo is the o…

Read more >
Click here to see more blog posts.
Helping Out
Help us by contributing! To create a new page, enter the title in the box below.

If you are new to wikis, check out Help:Contents