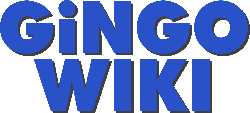 Welcome to the Gingo Wiki
Please keep in mind that almost everything you will see here is fanmade, so don't get tricked into thinking it's real. Also, no hackers, vandals and whatnot allowed!
Polls
Who is your favorite Gingo character?
Join the Chat>
Featured Article of February 2018
Lina is a 2001 American computer-animated fantasy drama short film written and directed by Amy McNeill and produced by Gingo Animation. It was the studio's second computer-animated short film after Tifi in 1996 (not counting the Planetokio online shorts from 1999 to 2000). Featuring music composed by Mark Mothersbaugh of Devo, Lina tells the story of the eponymous girl who is lonely and lost on a field in an unknown world at midnight until she encounters a bright star. The short was dedicated to Amy McNeill's late grandmother Jane McNeill, who died shortly before the short was completed.
Read more...
Featured Article Poll
What should be the featured article of March 2018?
Blogs
I just noticed something about the additional voices!

The surnames for the people who serve additional voices (alongside its crew) in every animated m…

Read more >
Click here to see more blog posts.
Helping Out
Help us by contributing! To create a new page, enter the title in the box below.

If you are new to wikis, check out Help:Contents
New pages
What is your favorite Gingo movie?
What forthcoming Gingo movie are you most excited about?
What did you think of Gabriel Garza 3?
What do you think of Gingo and its works?
Do you want Gingo and its works to exist in reality?