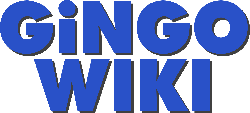 Welcome to the Gingo Wiki
Please keep in mind that almost everything you will see here is fanmade, so don't get tricked into thinking it's real. Also, no hackers, vandals and whatnot allowed!
Upcoming Feature Films
Untitled Gingo Animation film (May 21, 2021)
Untitled Gingo Animation film (March 4, 2022)
Untitled Gingo Animation film (March 3, 2023)
Untitled Gingo Animation film (December 22, 2023)
Polls
Who is your favorite Gingo character?
Join the Chat>
Featured Article of November 2017
Computeropolis: The Deep Web is an upcoming American 3D computer-animated science fiction action-comedy film produced by Gingo Animation. It will be the fourth main installment in the Computeropolis franchise following 2010's Computeropolis 3. The film is scheduled to be released on July 31, 2018 by Universal Pictures. The film centers on Peri, Nicky, Vinna, Travis and the rest of the Desktop Component League as they take a journey to the bootleg world known as the Deep Web, led by Rulio, a bootleg knockoff mixture of Elmo and Mario. During their adventure, Peri and the rest of the gang encounter toy and nursery rhyme channels for children, learning videos, surprise egg videos, Finger Family videos, Learn Colors videos, bootlegs, memes, and characters, such as Hiro Hamada and the Vocaloids. However, when they soon discover that Rulio is responsible for making these bootlegs and plans to take over Computeropolis and transform it into his new empire, they must stop him before it's too late.
Read more...
Featured Article Poll
What should be the featured article of December 2017?
Blogs
I had a half-day in school today and man, that was easy.

Also, I'm staying home for Thanksgiving and we're not going anywhere.

Read more >
Click here to see more blog posts.
Helping Out
Help us by contributing! To create a new page, enter the title in the box below.

If you are new to wikis, check out Help:Contents
New pages
What is your favorite Gingo movie?
What did you think of Gabriel Garza 3?
Ad blocker interference detected!
Wikia is a free-to-use site that makes money from advertising. We have a modified experience for viewers using ad blockers

Wikia is not accessible if you've made further modifications. Remove the custom ad blocker rule(s) and the page will load as expected.