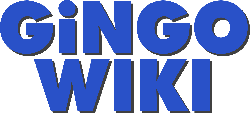 Welcome to the Gingo Wiki
Please keep in mind that almost everything you will see here is fanmade, so don't get tricked into thinking it's real. Also, no hackers, vandals and whatnot allowed!
Upcoming Feature Films
Untitled Gingo Animation film (March 4, 2022)
Untitled Gingo Animation film (March 3, 2023)
Untitled Gingo Animation film (December 22, 2023)
Untitled Gingo Animation film (April 26, 2024)
Polls
Who is your favorite Gingo character?
Join the Chat>
Featured Article of October 2017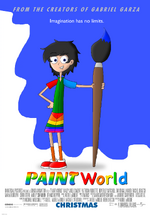 Paint World is a 1999 American animated musical fantasy adventure comedy film produced by Gingo Animation for Universal Pictures. The debut film from Gingo, it was directed by Audel LaRoque (in his directorial debut) from a screenplay by LaRoque and Irene Mecchi, and a story by Geo G., LaRoque, and Michael Wildshill. The film features the voices of Haley Joel Osment, Patricia Arquette, Beverley Mitchell, David Gallagher, Rachel Dratch, Maya Rudolph, Cheri Oteri, Molly Shannon, and Dennis Hopper in a dual role. Set in a world of paint and colors, the film centers on a young boy named Deon Splatt (Osment), who embarks on a quest to save his world from losing its color and liveliness to a group known as the B&W Squad.
Read more...
Featured Article Poll
What should be the featured article of November 2017?
Blogs
I made 2 navboxes relating to List of Universal Pictures theatrical animated features and NBCUniversal. I hope you guys like it.

Read more >
Click here to see more blog posts.
Helping Out
Help us by contributing! To create a new page, enter the title in the box below.

If you are new to wikis, check out Help:Contents
New pages
What is your favorite Gingo movie?
What did you think of Gabriel Garza 3?
Ad blocker interference detected!
Wikia is a free-to-use site that makes money from advertising. We have a modified experience for viewers using ad blockers

Wikia is not accessible if you've made further modifications. Remove the custom ad blocker rule(s) and the page will load as expected.