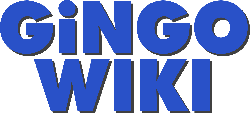 Welcome to the Gingo Wiki
Please keep in mind that almost everything you will see here is fanmade, so don't get tricked into thinking it's real. Also, no hackers, vandals and whatnot allowed!
Upcoming Feature Films
Untitled Gingo Animation release (December 22, 2021)
Untitled Gingo Animation release (March 4, 2022)
Untitled Gingo Animation release (March 3, 2023)
Untitled Gingo Animation release (December 22, 2023)
Untitled Gingo Animation release (April 26, 2024)
Polls
Who is your favorite Gingo character?
Join the Chat>
Featured Article of September 2017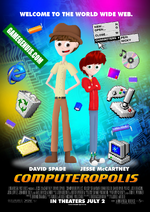 Computeropolis is a 2004 American computer-animated science fiction buddy comedy film produced by Gingo Animation for Universal Pictures. It was directed by Audel LaRoque and David Silverman and written by Michael Wildshill. The third feature film from Gingo, Computeropolis was Gingo's first fully computer-animated feature film, as well as the first computer-animated film from Universal Pictures. The film features the voices of Jesse McCartney, David Spade, Kelsey Grammer, Dan Fogler, David Hyde Pierce, Jodi Benson, Jon Lovitz in a dual role, Jennifer Tilly, William Shatner, and Harland Williams. The film follows a young computer wiz named Peri Dazz, who attempts to publish his own game named Frenzy to the Internet, and suddenly stumbles upon an eponymous online universe deep inside the realms of his computer. He joins Nicky Kickzoo, a scavenger hunter and the protagonist of the Frenzy game, on a risky mission to eliminate King Trojan, a virus capable of corrupting the entirety of the global system.
Read more...
Featured Article Poll
What should be the featured article of October 2017?
Blogs
Now Gingo will have 3 films (Imagimals on March 3, Gabriel Garza 3 on July 19, and Niz Chicoloco on December 20) in a year (2017) and Computeropolis: The D…

Read more >
Click here to see more blog posts.
Helping Out
Help us by contributing! To create a new page, enter the title in the box below.

If you are new to wikis, check out Help:Contents
New pages
What is your favorite Gingo movie?
What did you think of Gabriel Garza 3?
Ad blocker interference detected!
Wikia is a free-to-use site that makes money from advertising. We have a modified experience for viewers using ad blockers

Wikia is not accessible if you've made further modifications. Remove the custom ad blocker rule(s) and the page will load as expected.