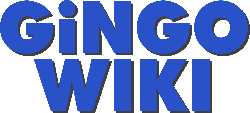 Welcome to the Gingo Wiki
Please keep in mind that almost everything you will see here is fanmade, so don't get tricked into thinking it's real. Also, no hackers, vandals and whatnot allowed!
Polls
Who is your favorite Gingo character?
Join the Chat>
Featured Article of January 2018

Gingo Animation, LLC (also known as Gingo Studios or simply Gingo) is an American animation studio based in North Hollywood, California. Founded by Geo G. and Michael Wildshill in 1988, the studio has been owned by Universal Studios, a division of Comcast through its wholly owned subsidiary NBCUniversal, since 2004. Gingo creates animated feature films, short films, television programs, and video games. Although the studio initially made two traditionally animated films, all of their films now utilize computer animation. The studio has currently produced a total of eighteen feature films, beginning with Paint World (1999) and its most recent being Gabriel Garza 3 (2017). It is best known for the franchises Gabriel Garza, Hatty, Niz Chicoloco, Planetokio, Paint World, Computeropolis, Paradoria, and Imagimals.
Read more...
Featured Article Poll
What should be the featured article of February 2018?
Blogs
Hey, guys, I am going to revamp the 2011 Gabriel Garza film (and its sequel, the 2013 Christmas special and possibly the whole franchise) with new stu…

Read more >
Click here to see more blog posts.
Helping Out
Help us by contributing! To create a new page, enter the title in the box below.

If you are new to wikis, check out Help:Contents
New pages
What is your favorite Gingo movie?
What forthcoming Gingo movie are you most excited about?
What did you think of Gabriel Garza 3?
What do you think of Gingo and its works?
Do you want Gingo and its works to exist in reality?
Ad blocker interference detected!
Wikia is a free-to-use site that makes money from advertising. We have a modified experience for viewers using ad blockers

Wikia is not accessible if you've made further modifications. Remove the custom ad blocker rule(s) and the page will load as expected.