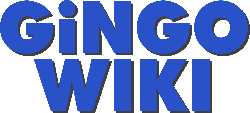 Welcome to the Gingo Wiki
Please keep in mind that almost everything you will see here is fanmade, so don't get tricked into thinking it's real. Also, no hackers, vandals and whatnot allowed! Additionally, not only it features Gingo-related content, but also some other non-Gingo content.
Polls
What forthcoming Gingo movie are you most excited about?
What do you think of Gingo and its works?
Do you want Gingo and its works to exist in reality?
Featured Article of June 2018
Gabriel Garza 2 is a 2014 American 3D computer-animated action-adventure comedy film produced by Universal Animation Studios and Gingo Animation for Universal Pictures. The thirteenth feature film from Gingo Animation, it was directed by series creator Geo G. from a screenplay by Geo, Dan Fogelman, Erica Rivinoja, and Brian Lynch, and a story by Geo, and is the sequel to 2011's Gabriel Garza, which began Gingo's reboot franchise of the original Gabriel Garza series. Sometime after the first film, Gabriel, Roge, Leno, Cole, and Loy go to visit Donnie Stampla, Loy's old friend and assistant since the first grade. However, when they discover a greedy leek-obsessed worker named Mr. Leek's plot to transform all of the Elves into "leek monsters", the group teams up with Donnie's two enthusiastic children Lily and Lester Stampla to stop him.
Read more...
Featured Article Poll
What should be the featured article of July 2018?
Blogs
Today I just found out that AT&T's proposal to merge with TimeWarner was approved. It just came out of nowhere. Don't believe me? See this: https://e…

Read more >
Click here to see more blog posts.
Helping Out
Help us by contributing! To create a new page, enter the title in the box below.

If you are new to wikis, check out Help:Contents