Gingo Animation, LLC (also known as Gingo Studios or simply Gingo) is an American animation studio headquartered in North Hollywood, California. Founded by Geo G. and Michael Wildshill on February 13, 1988, the studio is best known for producing the franchises Gabriel Garza, Hatty, BJ and Wally, Niz Chicoloco, Chrysocolla, TeenV, and Imagimals. After some experimental computer animated short films during the late 1990s, beginning with Tifi (1996), it entered the computer animation market with BJ and Wally (2006). Gabriel Garza, the main character of the studio's animated television series of the same name, is the studio's mascot.
1982–1990
Edit

Gingo's predecessor Geo-Wildshill Productions was founded in 1982 as a division of Hanna-Barbera by animators Geo G. and Michael Wildshill, who wanted to realize their dream of producing an animated feature-length film. On February 13, 1988, after leaving Hanna-Barbera due to financial reasons, Geo and Wildshill opened their own studio named Gingo Productions, which would develop characters, stories and productions, and some of the animators who worked for Geo and Wildshill at Hanna-Barbera came to the studio at the time.
1991–2005
Edit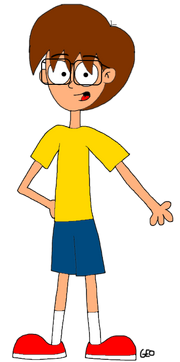 Gingo had produced a Saturday morning animated series titled Gabriel Garza, which ran on CBS from 1991 to 1993 and on NBC from 1994 to 2002. Its title character, based on the boy from Gingo's short film The Special Visitor, has been the studio's mascot since his introduction. Meanwhile, some of the Gingo staff got a call from Universal Studios to form a feature animation department. CBS expressed a strong desire in 1992 for Gingo to create a new series, and the studio began conceiving Hatty during this period; that same year, Gingo changed its name to Gingo Animation, LLC. The following year, Gingo created a new division named Glass Ball Productions, which typically produces animated films and television shows targeted to young adult audiences.
Gingo Feature Animation was the studio's feature animation label which produced the films Romeo and Juliet (1994) and Ghost Vision (1995). Spun off from the feature division of Hanna-Barbera Productions, Gingo Feature Animation was folded into Universal Feature Animation, which was then merged into Universal Animation Studios.
Gingo Interactive is a video game developer and publisher founded in 1994 as a subsidiary of Gingo. It was best known for developing the video game adaptation of Gabriel Garza, as well as the Niz Chicoloco and Chrysocolla games.
In 1994, Gingo created a computer animation department at the studio's main headquarters at North Hollywood that would produce computer-generated productions, starting with the short Tifi in 1996, which was Gingo's first attempt at computer animation. For then, the studio had the traditional animators working for their main hand-drawn animation department, and the computer animators worked on CG productions. In May 1996, Universal announced they were to co-finance and distribute Paint World, which had been in pre-production for a year. In August 1996, the studio's second animated series Hatty aired on NBC, and ran until 2002.
To expand the studio's online content presence, Gingo Animation launched their own official website named Gingo.com in 1996. The website gathers its core animation properties in a single online environment that is interactive and customizable for site visitors. It offers both originally produced content along with press releases, games, free wallpapers, desktop backgrounds, and screensavers. Some of the characters to be used in the project from the Gingo libraries include those of Gabriel Garza and Hatty.
From October 21, 1999 to January 31, 2000, Gingo produced four three-minute CGI short films to promote the North American release of the video game Planetokio, entitled Bot Fight, Race, Clones and Iken's Lunch; they were originally available for viewing on the North American Planetokio website.
2006–present
Edit
In April 2006, Gingo launched their official YouTube channel, which is a YouTube Partner channel featuring clips and trailers from the studio's productions and many others.
More coming soon!
Gingo is named after Gingo biloba (later Ginkgo biloba), a poem written by the German poet Johann Wolfgang von Goethe. The poem was published in his work West-östlicher Diwan (West-Eastern Divan), first published in 1819. Goethe used "Gingo" instead of "Ginkgo" in the first version to avoid the hard sound of the letter "k".
The studio is also named after the identically named Ginkgo biloba, the only living species in the division Ginkgophyta, all others being extinct. It is found in fossils dating back 270 million years. Native to China, the tree is widely cultivated and was introduced early to human history. It has various uses in traditional medicine and as a source of food. The genus name Ginkgo is regarded as a misspelling of the Japanese gin kyo, "silver apricot". However, "gingo" is more commonly translated as "passed" from Swedish.
The name of the studio was originally going to be "StarActive Studios", but founders Geo and Wildshill wanted to come up with "something funny" and said to be intended to describe the non-linear editing systems and video compression the studio was specializing on. They afterwards decided to go with Gingo Animation Studios, most commonly known today as Gingo Animation. However, Geo has claimed that the name was a result of being a pun on "bingo but with a G instead of a B".
Non-Gingo productions by Gingo animators
Edit
Coming soon!
Filmography
Edit
Main article: Gingo filmography
Gingo Animation has produced a number of animated features, shorts and TV series. The major films produced are:
Franchises
Edit
Awards and nominations
Edit
Main article: Gingo filmography#Accolades