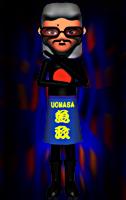 Dr. Canbell (Dr.カンベール) is the father of Naomi. He is voiced by Maurice LaMarche.
Official profile
Edit
"Naomi her dad in is also a scientist, an authority on genetic manipulation. Naomi chan Chino "Sakanasei" is, face down is also the illegal remodeling tropical fish and I have made Papa. Because there is a good relationship with TakaraKoto Dr. biological and chemical adviser of Defense Corps."
―[1]
Planetokio
Edit
Coming soon!
Personality
Edit
Coming soon!
Appearance
Edit
Coming soon!
Coming soon!
Ad blocker interference detected!
Wikia is a free-to-use site that makes money from advertising. We have a modified experience for viewers using ad blockers

Wikia is not accessible if you've made further modifications. Remove the custom ad blocker rule(s) and the page will load as expected.